A HISTORIC GEORGIAN FAMILY HOME & DEMESNE
UNDERSTATED GEORGIAN GRANDEUR COUPLED WITH LIVING HISTORY AND HERITAGE
Approx – 4 hrs
A favourite destination for our guests who delight in the combination of elegant interiors and living history. This historic elegant house has been home to the same family since the early 1700s. Guests are so impressed with the owners passion for preserving the family history through stimulating stories.. and the odd tall tale!
HIGHLIGHTS
An invitation inside a unique and elegant Irish historic Georgian home where you are personally welcomed by the family.

 

A visit of the family's portrait gallery where guests hear about the adventures and anecdotes of the family's ancestors around the world.

 

A wander in the walled gardens where the walls were built as part of a famine project during Ireland's Great Famine of the 1840s. Saunter through the lush greenery of the hazel arch, the longest in Ireland and a listed heritage structure.

 

Hosted by the family, relax over hospitality in the dining room. This elegant room is decorated with awards showcasing the family's eminence in equestrian sports.
This venue is located in the south of Ireland, close to Cashel, Limerick and Cork.  Please talk to us if you would like to discuss how to best integrate into to your travel plans.
Please Note:
The availability and exact locations of our venues are discussed when you make an enquiry. As this is a private home, exact locations are not disclosed to respect the privacy of our hosts.
APPROX TRAVEL TIMES
30 mins from Cashel
1 hr from Limerick
Photography by Kees Van Seventer
While visits by individuals and couples are possible, ideally, we recommend groups with a minimum of 6 and maximum of 10 guests to preserve the intimacy and dynamic of every experience. 
MOBILITY & VENUE CONSIDERATIONS
Reasonable mobility is required as this home has a staircase; in addition, there are stepped areas on the garden walk.

Photography at this home  is  only be allowed in certain areas for reasons of insurance and privacy.
INCLUSIONS
Hennessy & Furlong Host from agreed meeting point;

A behind-the-scenes visit to the home and garden

Welcome drinks and an Irish afternoon tea
PRICING
Pricing tailored according to group size and hospitality
In this region, there are a number of other local experiences which can be included to make a memorable full day for you. 

SAMPLE HALF-DAY ITINERARY
Time – Approx 4 hrs
1. WELCOME & BRIEFING
At your agreed meeting point, usually a local hotel, you will be welcomed by your Hennessy & Furlong host. After a short briefing, we travel together to the demesne.  
2. ARRIVAL AT THE ESTATE
As you arrive through the beech tree-lined avenue, your senses are heightened as you are welcomed by the family. From outside, you see the green paddocks, sometimes with horses grazing, a nod to this family's eminence in horse breeding. 
3. WELCOMED INSIDE
The whole story of this elegant manor house is brought to life by your host. Peek inside the family library, view family photographs, hear the stories behind the family portraits, be amused by the unexpected, satisfy your curiosity and wonder aloud. Just imagine the questions you are going to ask.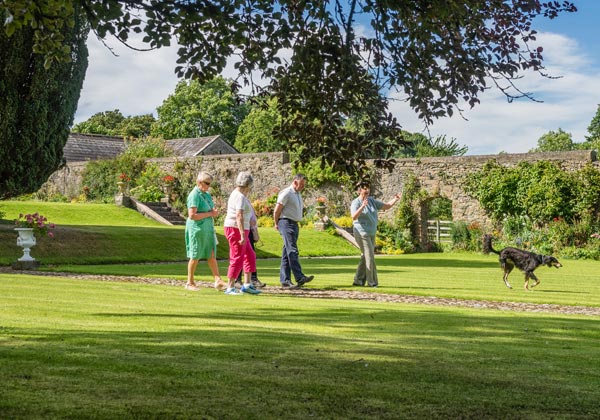 4. STORIES OF THE WALLED GARDENS
Stroll around the gardens, smell the seasonal fragrances, see the "famine walls", imagine the toil of gardeners of times past, be amazed with the exotic species, the continuous planting programme, share knowledge and be inspired.
5. SHARED CONVERSATIONS
After seeing and hearing so much about this 16th century ancestral manor home, it's time for tea, an Irish afternoon tea! Convivial conversations continue, exploring common experiences, making connections; who knows where it will lead?
6. A FOND FAREWELL
Signing the visitors' book, you think about the comments you'll write. Whatever you write, you know that you just had a very special, personal experience; so many magical moments to cherish and share with friends and family back home.
"The first visit that afternoon was to an ancestral home that had been in the same ownership since it had been built in the early 1700's. A well respected family with great roots in the local community and unprecedented success in the equestrian world. Here was another exceptional opportunity and we certainly appreciated the personal introduction and private viewing with the owner.  Stepping into this world for a few hours during a memorable day was an honour.  The highlight being witness to an incredible children's playroom. A lasting contribution and gift to future generations from the lady of house."
Lisa Osman, Dorset, UK