Frank Kelly wrote
IRELAND'S ANCIENT EAST – MOUNT FUJI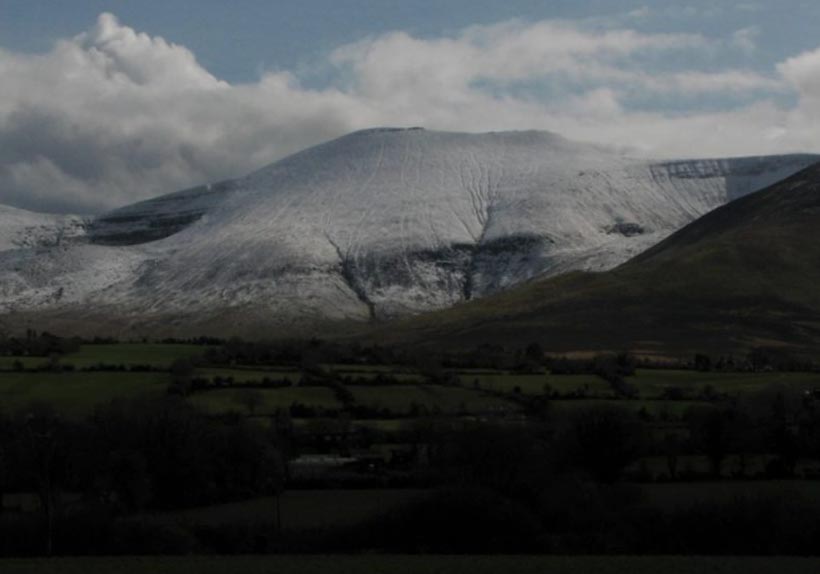 Could Galteemore be Ireland's Mount Fuji?
From the Glen of Aherlow, deep in Ireland's Ancient East, Galteemore rises majestically to dominate the landscape in Ireland's Golden Vale, one of the most fertile areas of the country.
In wintertime, when you view Galteemore with occasional snow caps, it strikes you how it resembles Mount Fuji.
Like Mount Fuji, this is a place of serenity that has attracted people in pursuit of solitude, a place of reflection and a place of relaxation.
Today, it is a unique holiday destination, deep in Celtic Heartlands of Ireland's Ancient East.
Planning Your Trip
The Glen of Aherlow is a gem of a holiday destination, thankfully largely undiscovered, which will make a wonderful holiday experience for you, family and friends. In 2013, The Glen won the accolade as the Best Inland Holiday Destination in a travel writing competition run by The Irish Times and supported by Failte Ireland (Irish Tourist Board).
First of all, think about what has made a great holiday for you in the past and, inevitably, it as much the people you holidayed with, the people you met as well as the destination itself coupled with a great food experience in the cafes and restaurants. So whether you need a solo break, a get-away with a friend or partner, your family or a group of friends, discover why the Glen of Aherlow is the ideal value-for-money choice for your holiday.
A great holiday experience is really about that mix of good company, pleasant accommodation options from camping, farm guesthouses, quality hotels and an amazing 16th century castle, plenty of activities in a pleasant green environment, local guides and quality food experience, all provided at great value.
Your starting point will be the moment you meet Helen Morrissey and her team in the local Tourist Office in the Glen, a community tourism initiative. From that first experience, you go on to meet many other locals like Mandy Parslow (the local potter), local walking guides like Jimmy Barry and Mike Moroney, the Stanley family at Ballinacourty House (great restaurant, guesthouse and camping), Slow Food by the Ballymaloe-trained Eamon Long at Rathellen House, menus inspired by French-trained head chef Jose Vega at Aherlow House and macrobiotic cooking experiences at Tig Roy, gentle cycling routes, pony trekking, easy and moderate linear and looped hiking trails … ….and meet more locals whom will make your holiday so enjoyable.
Local attractions include megalithic tombs at Darby's Bed, early Christian sites such as St. Berrihert's and ruined monastic sites such as the Moore Abbey – all these sites will capture the imagination of kids and adults alike – and they're free helping to contribute to a value-for-money holiday for you.
While I live about 20km from the Glen, it's a place to meet friends for walking, coffee and dining. Any time I visit, the Glen continues to captivate me, friends and visitors alike. As a Tripadvisor reviewer from Texas noted, The Glen is astounding and tranquil. To start planning your holiday in The Glen, visit www.aherlow.com now.
LOCAL ATTRACTIONS
St. Berrihert's Kyle
This is an intriguing early Christian site founded by St. Berrihert, a Saxon holyman who arrived with his father and two brothers in the Glen around 840AD. If you have kids with you, this site will appeal to their imagination. It's very affordable too – actually while it's on private land, it's free of charge! Rick Grogan is the landowner and visitors to the Kyle are welcome.
While the site is modest in size, it is rich in content mirroring a temple-like complex with a pilgrim's path, a holy well and a fascinating area spread out with a mix of ancient crosses and gravestones. This area is the Kyle and all the stones you see date from the 7th, 8th and 9th century and have been laid out in an elliptical stonewall or enclosure. To the east of the Kyle is St. Berrihert's Well, which is 20M wide and 1.5M deep. Local tradition says that water from this well cannot be boiled while stones from the well will save you from fire. While St. Berrihert's is situated in the middle of the Glen, it's not actively promoted so as to preserve its uniqueness.
You'll need to ask the Tourist Office for precise directions by road and it also involves a hike across some fields before you happen upon the Kyle. Alternatively, ask your local guide to include it on your guided tour in the Glen. It's a magical place.
St. Pecaun's Complex
Further east from St. Berrihert's, you'll discover St. Pecaun's Well, Church and Cell. St. Pecaun (also known as St. Began) was a 6th century anchorite. The anchoritic lifestyle was one of the earliest forms of Christian monastic living. Anchorites like St. Pecaun lived in a very simple cell adjoining a church and were supposed to remain in their cells in the case of all eventualities. They ate very frugal meals and their day was characterised by prayer and contemplation.
Clonbeg Church
A delightful stone cut country church, especially ideal if you can visit on a Sunday morning when Dean Gerald Field and his congregation will welcome you. Understated from the outside, this church has wonderful carved wood interior creating a warm welcoming ambience. Behind the church is another holy well, St. Sedna's, with ribbons and other pieces of clothing tied to the surrounding trees as a reminder that it still is an active site for those seeking solace.
Step Back 4,000 Years
Darby's Bed is an amazing megalith passage tomb, easily accessible by walking the route marked from the village of Galbally. Again, like St. Berrihert's Kyle, it is one of the undiscovered gems of the Glen of Aherlow.
Legend has it that Diarmuid and Grainne, characters from Irish mythology, rested here one night on their flight from Fionn Mac Cumhaill. Sharing the legend of Fionn MacCumhaill while exploring Darby's Bed will stimulate the imagination of kids and adults alike. This megalithic tomb is an amazing structure comprising one enormous rock slab resting steadily across a number of famous cairns which measures approximately 25m north -south and 22m east-west.
When you return to the village, drop into Kathleen Frazer at Mulvey's Coffee Shop where she does big cafetieres of coffee for just €2…..or treat yourself to a great hearty lunch that she offers daily to local farmers and visitors alike – comfort food at its best! Not a Michelin star in sight…just fantastic country food like bacon and cabbage cooked with passion.
Afterwards, visit the ruins of Moore Abbey, just outside the village. A Franciscan Abbey dating from 1204, the well preserved ruins emanate a real sense of serenity notwithstanding its history when it was dissolved like so many monasteries under Henry VIII's decree and monks were beheaded.

CONTRIBUTORS:
Photographers:
Jimmy Barry, is a former soldier with the Irish Army. Overseas mission included The Lebanon where he served with the Irish Army under UN command. He is an avid hillwalker, member of Mountaineering Council of Ireland and a volunteer with Mountain Meitheal which repairs and conserves mountain trails. He is also a volunteer and Public Relations Officer with SEMRA: South Eastern Mountain Rescue Association. . Over the past thirty years, his passion for hill walking has taken him around Ireland and Europe. His passion for The Galtees inspired him to produce "Under Galtee Skies – A Pictorial Journey through the Galtee Mountains"
Kees Van Seventer is a retired engineer from Philips in The Netherlands and a member of the creative team at Hennessy & Furlong. Along with his wife Angela, they spend their time between the Netherlands and their holiday home in The Glen of Aherlow. His time in Ireland gives him the opportunity to pursue his passion for photography, capturing the people and places that make Ireland a special place for him.
DISCOVER A HIDDEN IRELAND
Our Journal Writers are passionate about the special people and their special homes that inspire them to write and share their experiences. Join our club of fellow travellers and heritage enthusiasts reading their stories of discovery around Ireland.
Join the community for Ireland's roads less travelled and sights less seen.