Frank Kelly wrote
THE OTHER QUEEN ELIZABETH
After our first visit to Elizabeth's castle, one of our guests was dumbfounded. "It was just a fantastic experience", he said. But how would you describe it, he pondered. It's not just an experience, it's more a whole series of experiences compressed into one afternoon visit.
 From the busy roadway in County Tipperary, you can just about see the castle down the beech tree driveway. As you drive down, you senses are heightened, wondering what is about to unfold as you proceed into the gravelled driveway.
Like all our visits, it's Elizabeth who makes this place so intriguing. Like all our other venues, it's her home, where she raised her family and where continues to live and work daily.
Yet, the place is full of history, part of Ireland's Ancient East, reflecting the past though very much part of the present. Being a private castle, it is not part of the Butler Trail, yet, yet is very much part of the Butler story, being one of their many original towerhouse castles in this part of Ireland.
Of course, it was not always a home. While it dates from the 14th century, it lay in ruins for hundreds of years. Then, in the early 1970s, Elizabeth and her family thought about rescuing this dilapidated ruin to make it their family home. It was a mad idea. But they made it reality. A stunning reality.
But like all our hosts, Elizabeth had a vision. A vision of what could be achieved with painstaking work, attention to detail and a lot of cash. A lot of cash!
Her pride is not only the refurbishment of the castle but also the gardens which run down to the river. During summertime, the garden, more a series of inter-connecting outdoor rooms, exude friendly fragrances that enrapture the senses as you walk down to the river's edge. You can see the berth where barges used to tie up, bringing agricultural goods from upriver down to the port.
As she leads you back up through the garden, you see the castle from another vantage angle. Then, you proceed up the steps to the main door, medieval in construction, which gives a hint of what lies beyond.
As you enter the upper ground floor, you will be greeted by her dogs, Rufi and Lily, her companions, her minders and all part of the tapestry of this ancient place. This first reception room is just full of medieval furniture, tapestries, antiques, all of which add to the warm ambience.
 Then Elizabeth walks you through the reception room, guiding you up the stone spiral staircase that is so typical of these Irish Norman castle towerhouses.
 And, as you proceed upwards, each bedroom occupies a full storey…and a full story as well. Elizabeth does not pretend to be a tour guide. No, she is much more, a story teller sharing stories of this room and that, this piece of furniture and that, this painting and that. And each time a new story is told, a new experience is layered upon the previous experience.
The top room of the castle has a panoramic window giving stellar views over Tipperary, onto the Comeragh Mountains. It is enrapturing, leaving you with some great memories, special memories of this special place.
Then, you deftly proceed downstairs, where it's time for tea. Well, not just tea. Elizabeth prides herself on her afternoon tea, so much more real than the staid versions presented in the 5* hotels. It's an afternoon tea not just of sumptuous sandwiches and homemade cakes but more stories, real stories about the realities of castle living, previous visitors and her vision for the future.
Like one of our visitors tried to explain, it's a fantastic experience. It's just how to explain it in words. Really, it's takes more than words to convey the essence of a private castle trip.
All that really means is that you'll have to take time out to visit, to experience, to smell, to taste all of what is on offer.
WHAT OUR GUESTS LOVE
The sheer sense of wonderment as you see the castle in the distance from the road.

Elizabeth herself – she exudes an eclectic style.

The gardens, especially in the Summer months.

Her son's Tom art work, a self taught artist, specialising in illustrations, abstracts and sculpture.




The afternoon tea served in the medieval dining room.
What You Should Know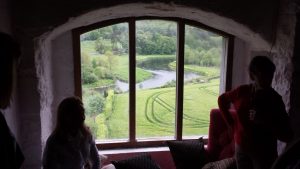 Like all castle towerhouses, it has a steep stone spiral staircase that is only suitable for guests with full mobility.

Photography is not allowed inside for insurance and security reasons.

Remember it's a castle so temperatures inside can even be cooler than outside.
DISCOVER A HIDDEN IRELAND
Our Journal Writers are passionate about the special people and their special homes that inspire them to write and share their experiences. Join our club of fellow travellers and heritage enthusiasts reading their stories of discovery around Ireland.
Join the community for Ireland's roads less travelled and sights less seen.