13TH CENTURY FAMILY ESTATE
ONE HOME, 23 GENERATIONS OF THE SAME FAMILY
Approx – 4 hrs
No less than 23 generations of the same family have lived on this estate. Today, the family is passionate about preserving the legacy of past generations. A visit is a fascinating insight into this living legacy. 
HIGHLIGHTS
Stunning gardens that run alongside one of Ireland's longest rivers, The River Blackwater.

An informal lecture by a family member about how the River Blackwater was the medieval highway for trade and transport in centuries past.

An invitation inside the family home where impressive ancestral portraits will stir your curiosity about these famous (and some infamous!) ancestors.

Relaxed hospitality in the family dining room where you will be delighted with family stories of today and yesteryear.
This ancestral home is located in Ireland's South East, close to Cork and Waterford. Please talk to us if you would like to discuss how to best integrate into to your travel plans.
Please Note:
The availability and exact locations of our venues are discussed when you make an enquiry. As this is a private home, the exact location is not disclosed to respect the privacy of our hosts.
APPROX TRAVEL TIMES
1 hr from Waterford City
1 hr from Cork City

Photography by Kees Van Seventer
While visits by individuals and couples are possible, ideally, we recommend groups with a minimum of 6 and maximum of 10 guests to preserve the intimacy and dynamic of every experience. 
MOBILITY & VENUE CONSIDERATIONS
A reasonable level of mobility is required to enjoy exploring the gardens.

Internal photography at the host's home will only be allowed in certain areas.
INCLUSIONS
Hennessy & Furlong host

Personal welcome by the family

Access to most of the reception rooms

Afternoon tea in the elegant dining room

 
PRICING
Pricing tailored according to group size and hospitality
In this region, there are a number of other local experiences associated with the River Blackwater which can be included to make a memorable full day for you.

 
<

SAMPLE HALF-DAY ITINERARY
Time – Approx 4 hrs
1. WELCOME & BRIEFING
You meet your fellow guests and your H&F ambassador at an agreed location. Over coffee, you hear a little more about your private visit and your hosts. Then, we travel in convoy driving through the eclectic entrance to the estate.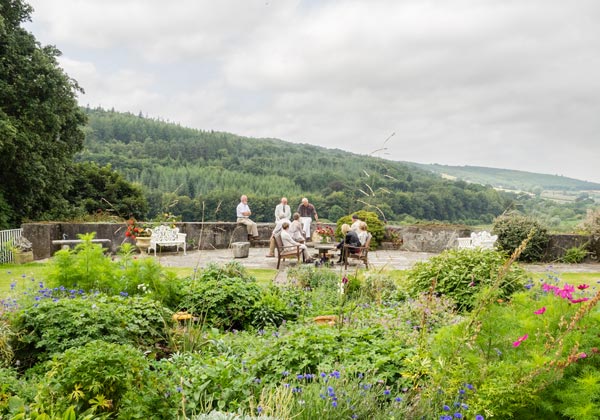 2. ARRIVAL AT THE ESTATE
On entering the estate, you are welcome by your hosts. You will hear a little about the family and its arrival here more than 800 years ago in 1215.
3. THE RIVER & ESTATE GARDENS
The impressive gardens run along the River Blackwater and you see the painstaking work involved in their maintenance and preservation. In its day, the river was the main mode of transport and you hear stories about its important for trade and defence.
4. ENTHRALLING STORIES 
Imagine the stories you are going to hear, real stories, stories of times past, stories of the present; imagine the stories you're going to share back home.
5. MORE ROOMS, MORE STORIES…
This special family home is perched above the river. Stunning views will enthral you as you look out from above. More stories are revealed which gives you fascinating glimpses into time past.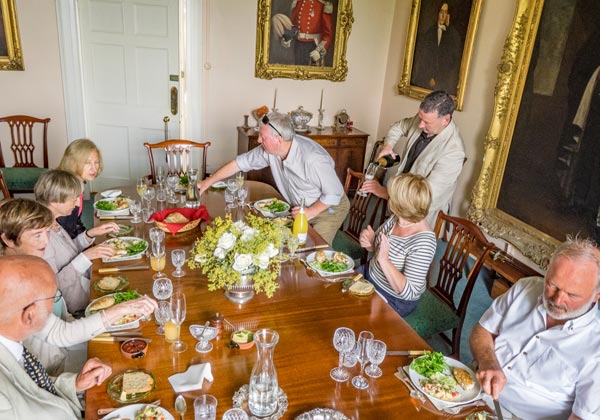 6. TIME TO RELAX 
After an immersion in the family history and heritage, its time to relax in the family dining room. More stories, stories of today as well as yesteryear, how the family lives today and the challenges of maintaining and being custodians of a very special family home.